Book Gallery
Great Shapes Altered Book
Elinor Stecker-Orel sent us pictures of an altered book using one of the Great Shapes shaped books we used to carry. Even though they have been discontinued, we love this project and leave it here for everyone's enjoyment and edification.

She writes:

I was very excited when you introduced your shaped books many months ago because I wanted to use the house-shaped book to document the building of my studio/office. The addition to the house is finished-- and so is my altered book.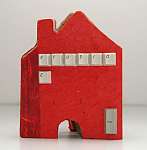 I covered the cover with mulberry papers. The title, "Studio E" was made with keys from an old computer keyboard. The "handle" says "enter."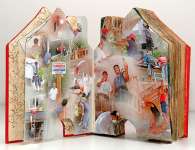 The first spread in the book is a composite of many images of the work in progress.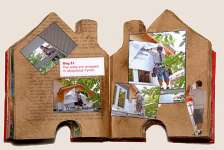 Another spread shows pictures taken on day 21 of the construction.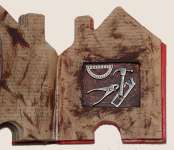 The final picture is of the niche filled with little carpentry tools.