art (n)
creative work or its principles; a making or doing of things that display form, beauty, and unusual perception
-- Webster's New World Dictionary
Jewelry Gallery
Flatware Spoon
Here is one of the spoons from our Flatware set made into a charm by Lady Debbie Metti. She punched a hole in the end of it and then glued on cool stuff. Diamond Glaze would work as glue for this sort of jewelry making. Click here for a closeup of the spoon.



---
Charm Bracelets
A bevy of beautiful charm bracelets made by Lady Belinda from our Chunky Ball Chain Bracelets in Mystic Red.
---
Alice's Charm Bracelet
Lady Alice of GRITS has made a wondrous bracelet using... well, just lots of Cool Stuff!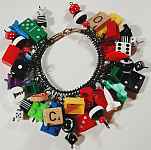 ---
Typewriter Key Bracelets
Jennifer Coats creates cool Typewriter Key Bracelets using our Bracelet Blanks. She says "I use metal snippers to get the keys off of the typewriters. My husband uses a drill with a metal polishing disc to smooth the backs of the keys. I adhere the keys with E6000 craft glue which is available at most large craft stores."
---
Copper Tags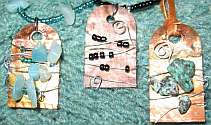 Cat Pick created these beautiful pendants from our Copper Tags

---
Ornate Cabochon Settings
Barbi Goebel sent us this picture of her gorgeous pins made from the Ornate Cabochon Settings we used to sell. Alas, they are all gone and cannot be replaced. But Barbi's work is so beautiful, we're leaving the picture here.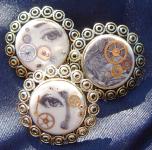 ---