art (n)
creative work or its principles; a making or doing of things that display form, beauty, and unusual perception
-- Webster's New World Dictionary
Beeswax Gallery
The Queen's Beeswax Art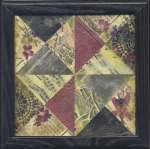 At Artiscape '07, Queen Xina attended a class called Botanical Quilting Beeswax Collage. For HRH, the interesting part was the beeswax. First a quilt block pattern was replicated using hand-made papers, ephemera, and pressed flowers in a 6.5" square format. Then it was dipped into a pan of melted beeswax by using strips of duct tape affixed to the back as handles.

The wax set very quickly once removed from the pan, but it dried with drips and uneven spots. So a small iron, like the Darice Mini Iron we sell, was used to re-melt the wax and either smooth it out or remove some of it by wiping the iron on paper towels. To enhance the piece, various colors of metallic rub-ons were used sparingly here and there across the finish. Then a wooden frame without glass was used to complete the masterpiece.



---
Beeswax with Watch Dials, Charms, Etc.
Princess Wanda, Personal Book Designer to the Queen, has been busy with beeswax collage of late. On the left is the Royal Birthday Card. The right is the top of a little gift box. Closeups of the beeswax collage pieces are beside each. The technique is described in Claudine Hellmuth's book, Collage Discovery Workshop.




See Claudine Hellmuth's Collage Discovery Workshop at Amazon.
---
Beeswax Mini-Tutorial
Wanda Benson has sent us a little tutorial on making beeswax collage, complete with step-by-step pictures! This is a quick way to make some collages without buying or setting up a lot of equipment and feeling you have to devote the whole day to the project. You can get one of our 4 ounce bags of Beeswax Pastilles for only $3.00 and then follow Wanda's directions to enter the World of Beeswax Collage. Mayhap it will capture your heart!
---
Here are the sequences of my beeswax technique. I use this technique when I want to make a couple of small collages.
The spoon rest is made of silicone and is heat safe to 450 degrees F. It is distributed by Goodcook (www.goodcook.com). Part # 24902.
Beeswax Step # 1
Assemble tools. Variable speed heat gun, heat-safe silicone spoon rest, ceramic tile for work surface and SkyBluePink's beeswax pellets.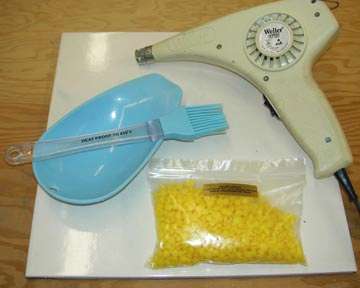 ---
Beeswax Step # 2
Assemble collage pieces you wish to include in your beeswax project.
---
Beeswax Step # 3
Pour a small amount (about 1 tablespoon) of beeswax pellets into silicone spoon rest.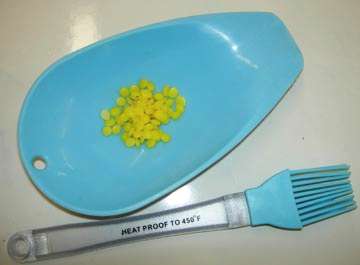 ---
Beeswax Step # 4
Remember to work on a heat safe surface. The surface used in this example is a piece of ceramic tile.

With a variable speed heat gun, set on low speed, carefully melt the pellets. Keep the heat gun about 5 inches away from the spoonrest to avoid splashing the melted wax.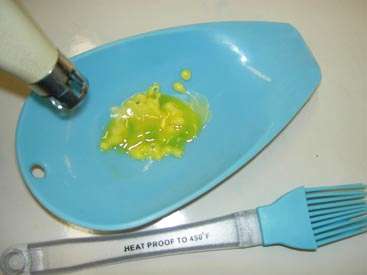 ---
Beeswax Step # 5
The fun part! Gently pour the melted wax onto your collage pieces. If the wax sets up too quickly, carefully reheat the area with the heat gun, again on low speed, and reset your collage piece where you want it. Also, if the wax covers something you want to show, you can run the heat over the area to melt the wax and make it flow away from the obscured image or ephemera.

Your finished piece will be ready to mount on cardstock, altered book page, or other object within minutes. Use a strong double sided tape on the reverse of the art for this step.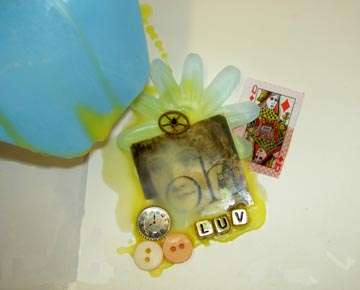 ---
Beeswax Step # 6
Note the vintage, weathered feel of the finished art. There is practically no limit to the variety of objects you can embed into beeswax-- glass slides, mica tiles, buttons, lace, bows, pictures, raised letters, game pieces, watch parts, etc. You can even use rubber stamps and stamp words or images when the wax is not quite cooled. Leave the stamp embedded in the wax until it is completely cooled. Then, gently pull the stamp from the wax.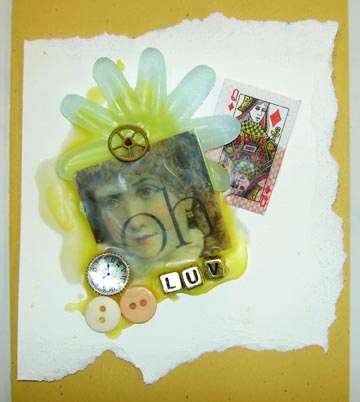 Best advice -- experiment with a variety of materials. Sometimes what may seem like a mistake actually turns out to be an attractive abstract.
Have fun!
---
Beeswax Tips
1. Beeswax is extremely flammable (that's why beeswax candles burn so cleanly: the wick doesn't burn, it "wicks" the wax up it to burn...), so take care when heating it. I use a mini-crockpot for my beeswax; no clean-up, I just leave it to cool in the crock pot until I use it the next time.

If you're heating it on a stove or heating element, use a double-boiling technique (water in bottom metal container and wax in smaller metal container [this could even be a coffee can or something you don't mind getting beeswax in, because you'll NEVER get all the wax out again!] set into the water). Stay and watch the wax melting is the safest way to heat it!

2. Yes, beeswax IS sticky (it's all that lovely honey that's still in it!) I don't know about craft sheets, but use an iron (that you use for crafting) to get the wax off the surface of cloth or anything that can be heated. Place a paper towel or something absorbent between the iron and the wax and the heat will pull the wax right up into the paper towel.

3. You could also use some kind of pottery or ceramic object to heat the pellets in with a heat gun; they are typically fired to 2000 or so degrees, so they can handle the heat of a heat gun.

4. Just in time for the holidays, make beeswax ornaments (soap molds or candy molds are perfect for this) by pouring melted beeswax into the molds and letting them cool down (spray with Pam cooking oil or some kind of silicone spray to make removal easier). Use heavy thread (or waxed linen) to form a hanger and place it in the beeswax while it's still hot so it will cool around the hanger. Hang them on your Yule tree, and they smell wonderful!

Hope this info is helpful! And remember, "All we are saying... is give bees a chance!"

Lady Kate Stockman