Munchkin Gallery
We no longer have a source for the little muslin Muchkins, but we're leaving the images for inspiration!
Ehecatl
Kelsey O'Mullane from Australia has sent us a shot of her wonderful Munchkin pin.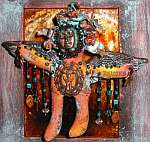 "I dyed the body using silk dyes, made wings from air-dry clay, the hair is Tyvek that has been painted & melted, beading was done in various places on the body. The face is a metal bead and the body actually has a pin-back sewn on the back so it can be worn as a brooch. When not being worn, it is stored on a picture frame that I decorated also. His name is Ehecatl (pron. e-heh-car-tool) - Aztec god of the winds."
---
Munchkin Beauty
Martha Avan's Girly Munchkin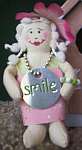 ---
Munchkin Babies
Marion McBryde sent in some pictures of her Munchkin-based creations. Wild!
---
Munchkin One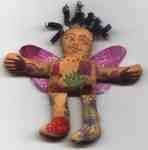 Roberta Altshuler from ERA Graphics created this wonderful little winged creature from one of our Munchkin muslin dolls and the Art Doll rubber stamp set. She also used her wing stamps (stamped on Tyvek) and other small design stamps available from ERA Graphics.

---
More Munchkin Madness
Victoria Pearman has been having a lot of fun with our Munchkin Muslin Dolls, and she sent us pictures to prove it.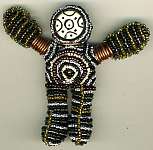 The mini doll is all bead embroidered with copper rings.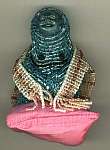 With the buddha, I took the same munchkie and sewed the legs and arms in lotus position (heh-heh). He is then ardorned with beaded embroidery and a robe in the Ndebele stitch.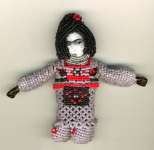 Frida, well is Frida Kahlo. Image transferred face with netted skirt and beaded apron. The remainder is bead embellished.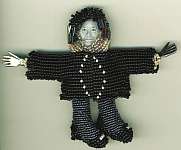 A "mini me". She must be my evil twin cuz she made me redo her "do" and outfit! lol!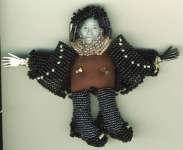 Parental discretion needed! I told you she was my evil twin. This is Hot Flash Momma.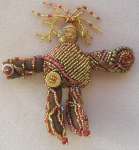 I replaced the doll form head with a metal reversible head. The body is bead embroidered with size 11 and size 8 seed beads. The gold button is vintage. I did a graduation of gold and red beads on the doll body torso. I went for negative space on three of the four limbs adding some glass beads here and there for accent. One arm (Popeye arm) is totally beaded with a flower in the palm of the doll's hand.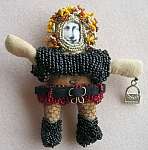 The wacky bug hit me and it was high time to give Mona Lisa a much needed makeover. Her face is made with a transfer and she sports curls of different colored size 15 seed beads. I made miniature clothes out of felt and then bead embroidered the felt with size 11 seed beads. Her boots use size 15 seed beads and I used cloth netting to make her fishnet stockings. She has a purse and is ready for a wild time. She's quite the harlot!