Calendar Gallery
Over the years customers have sent us many beautiful creations using our Calendar Pads. We now present them to you as inspiration!
---
Stephanie, the Swan Princess, creates hand-carved stamps of the appropriate animal from the Chinese zodiac every year for her amazing calendars!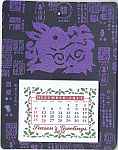 ---
Lady Violet of the Islands sent a beautiful folding card that looks like an Oriental screen. With a double fold on each side, it stands on its own.
---
Lady Carol Murphy included a Calendar Pad in one spread in a gorgeous book she created.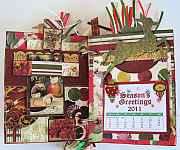 ---
Lady Aida Franquiz sent us pictures of two Calendars.
---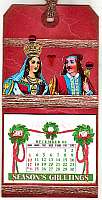 Lady Debbie Metti has created several calendars with our Calendar Pads. The Royal Calendar on the right has interesting strips of Copper Memory Foil Tape which she texturized. She used an antique tool with a toothed wheel, much like ones used in sewing or the specialized ones for working with metal foil.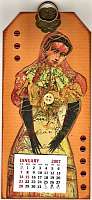 The Lady in Red Calendar on the left uses a Lotus Pad with Ring (currently unavailable) as a hanger. Lady Debbie says "I cut the tag myself from a couple layers of heavy cardstock that I glued together first. It's got that ribbed texture on it as it shows in the scan. Encore Bronze metallic ink around the edges...and those cabochon 'jewels' are your Queen's Jewels. The image of the woman is from the Lynne Perrella papers from Stampington."

---
Lady Anne H. made calendars using coasters and binder clips.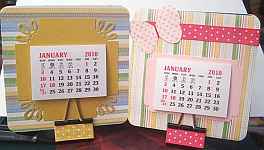 ---
Lady Vicki A. used a calendar as part of a small box..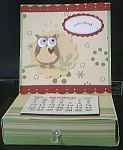 ---
CATlanta shows some fun cards she made with our Calendar Pads. Now we know why she's called CATlanta!
And then she made a dog calendar, too!