ATC, Etc.
We've found some really cool ATC accessories for holding, viewing, storing, preserving, and in general showing off your ATC or ACEO collections! Some are aimed at sports card collectors, but since ATCs are the same size, we're in luck. They fit perfectly!
Tangle Cards - SALE
Zentangle is a fun and relaxing way to draw beautiful designs. Anyone can enjoy Zentangle, no special talent needed. And the decks come in a sturdy box so you can carry them with you wherever you go.

Inside you'll find 40 unique cards, each presenting an original tangle (pattern). Easy-to-learn steps for completing each tangle are provided on the back of each card.

Each ATC-sized deck is printed on artist quality paper and features 40 original tangles (one per card). Also included are 9 cards that feature basic instructions on the front and a mind-bending Zentangle puzzle on the back. Or try your hand with a pack of 20 blank cards for designing your very own tangles.
ATC Album Pages - SALE
Looseleaf binder pages for your ATC collection! These page are super clear, very strong, and archival quality, with no acid, no PVC. Clear on both sides to show off the card backs, too. Provides UV protection for your artwork.

We have two sizes: the 4-card ones fit our 2-ring binder binder (sold out); the 9-card ones fit any standard 3-ring binder. Pocket size: 2-5/8" x 3-5/8". Small sheet is 6-3/16" x 7-11/16". Large sheet is 8-1/4" x 11-3/8".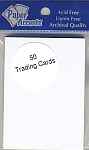 White ATC Cards - SALE
Artist Trading Cards pre-cut from white cardstock, all ready to decorate and create! They're acid-free, lignin-free, buffered, and archival quality. 50 per pack.

Price:

$1.50 Sale: $1.00

Sold Out
Price: $1.00 [List: $2.00]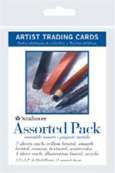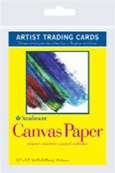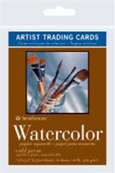 Strathmore ATC Packs - SALE
This line of artist paper packs feature downsized versions of the same Strathmore papers that artists use for their full-sized art, conveniently cut to the official ATC size, 2.5" x 3.5".
Assorted Pack
Contains 2 sheets each of Vellum Bristol, Smooth Bristol, Canvas, Textured, and Watercolor. Contains 1 sheet each of Illustration Board and Acrylic. [NOTE: This is a heavy paper meant for acrylic paints, not a piece of acrylic plastic.] 12 cards per pack.

Canvas Paper
A canvas-textured paper for techniques with oils and acrylics. 300 Series Canvas Paper. 10 cards per pack.

Watercolor
Our intermediate grade watercolor paper is popular with watercolorists of all levels. Acid free, Cold press surface. 400 Series Watercolor, 140 lb. 10 cards per pack.

ATC Sleeves - SALE
Protective sleeves for your ATCs (Artist Trading Cards.) Give your ATCs a nice finished look while keeping them clean and safe. Archival quality, no PVC, acid-free. Made from heavy-gauge, super clear polypropylene. Approximately 2-5/8" x 3-5/8", opening on the short side. Pack of 100.

Price:

$2.00 Sale: $1.50

Sold Out
SkyBluePink is closing permanently in May 2017!
Please order any supplies you will need soon to avoid finding them out of stock later.