ATC, Etc.
We've found some really cool ATC accessories for holding, viewing, storing, preserving, and in general showing off your ATC or ACEO collections! Some are aimed at sports card collectors, but since ATCs are the same size, we're in luck. They fit perfectly!

Price: $1.00 [List: $2.00]
Tangle Cards - SALE
Zentangle is a fun and relaxing way to draw beautiful designs. Anyone can enjoy Zentangle, no special talent needed. And the decks come in a sturdy box so you can carry them with you wherever you go.

Sold Out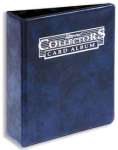 Mini ATC Album
A 2-ring binder that is acid-free, archival quality. The metal piece with the rings is attached to the back cover, not the spine, which means it opens completely flat for better card viewing.

The binder comes empty, but it holds up to 25 of the 4-pocket mini pages, which are available below. 8-1/4" tall, 7-3/4" wide, 2-1/2" spine.

Sold Out
ATC Album Pages - SALE
Looseleaf binder pages for your ATC collection! These page are super clear, very strong, and archival quality, with no acid, no PVC. Clear on both sides to show off the card backs, too. Provides UV protection for your artwork.

We have two sizes: the 4-card ones fit our 2-ring binder binder (above); the 9-card ones fit any standard 3-ring binder. Pocket size: 2-5/8" x 3-5/8". Small sheet is 6-3/16" x 7-11/16". Large sheet is 8-1/4" x 11-3/8".
SkyBluePink is closing but whilst we wind things down, you can still order from what is left of our stock.