Craft & Hobby Knife - SALE
A simple, handy little knife for your craft room, the kind with blades that snap off to give you a fresh, sharp blade when you need one. Fully retractable, with a locking mechanism and anti-slip grip, for safety. Includes two spare blades and a pocket clip/blade snapper. 5-1/2" long.

Price:

List: $3.50 Sale: $2.25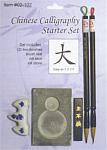 Beginner's Calligraphy Set - SALE
A nice little set to get you started with either calligraphy or Chinese brush painting. The set includes 2 brushes, 1 porcelain brush rest, 1 ink stick with gold characters, and 1 ink stone. The back of the card has a few instructions. Package size is 5-1/2" x 7-3/4".

Color Dapplers - SALE
Color Dapplers are great for applying just a touch color from your stamp pad inks, pastel chalks, or watercolors. These wooden-handled applicators create a stippled or dappled effect for nice highlights and depth. Lightly touch a Dappler to a stamp pad or paint palette to get elegant shading effects. Try it with templates or stencils, too! 3" tall. [Note: Very similar to JudiKins' Color Dusters, which are currently unavailable.]

Price:

$1.50 Sale: $1.35

each

1-Step Looper Tool - SALE
This 1-Step Looper from Vintaj and Beadsmith trims and loops headpins and eyepins in one simple step. Makes a perfect loop next to your bead and cuts off the excess pin. Teal comfort grip handles. Easy to follow directions on the packaging. Watch it in action on the Beadsmith YouTube video.

Price: List $32.00 Sale: $24.00

Blending Stumps - SALE
Blending stumps are made of soft rolled paper with pointed ends. When using chalk pastels, oil pastels, charcoal, pencils, and other media, use the fine tip to blend or remove color from small areas. The broad side of the tip works for larger areas. 5-1/2" long and 3/8" in diameter. Package of 3.

Price:

$2.00 Sale: $1.70

Sold Out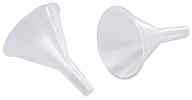 Mini Funnels - SALE
Mini Funnels in translucent plastic. Use them for liquids like paint and water, or corral tiny beads into containers with these handy little funnels. Top width: 1.5". Height 2". Package of 2.

Price:

$1.00 Sale: $0.75

Sold Out

Pigma Micron Pen - SALE
Pigma Micron ink pens feature archival quality ink that is chemically stable, waterproof, and fade resistant. You'll have no smears, feathers, or bleed-through on most papers. Great for journaling. These are the pens recommended in the Design Originals Zentangle books. Black ink in a 0.25mm nib.

Aqua-Flo Brush Set - SALE
A set of 3 water-fillable brushes at a very reasonable price. Use with watercolor crayons or pencils, or fill with diluted watercolors to make a wash. Small, medium, and large brushes made of soft synthetic taklon by Royal & Langnickel. 6" long.

Price: Set of 3 for

$6.00 Sale: $3.80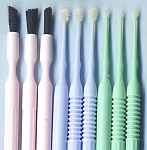 Tiny Applicators - SALE
Tiny Applicator tools are double-tipped with flexible ends. The blue and green ones have microfiber tips; the green ones are much smaller. The pink ones have small soft brushes. Both ends of any applicator are the same size and each one can be snapped in two at the score line.

Use for precise application of adhesives, bleach, paints, powdered pigments, etc. Wash and reuse them dozens of times! They can be used for cosmetics, too, but use a separate one just for that!

In this closeup of the top sections you can see the two different handle styles on the microfiber ones, which lets you keep track of which end is which. Microfiber 6-1/2" long. Brush 6".

Blue and Green microfibers are Sold Out
Wondertape - SALE
WonderTape from Ranger is a double-sided, super-sticky, clear mylar tape (also known as "red liner tape"). Heat-resistant and embossable, it will not lift or curl. Holds everything from paper to small embellishments permanently. Acid free, archivally safe. Use it to adhere a multitude of surfaces and embellishments: photos, papers, chipboard, matboard, foamcore, flocking, foil, glitter, small beads, embossing powder… and so much more!

The 15-foot rolls of tape are available in 3 widths: 1/8", 1/4" and 1/2". Also available is an 8" x 10" sheet - ideal for larger projects and for personal die cutting machines.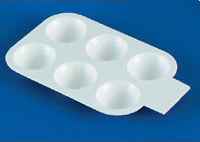 Six-Well Palette - SALE
A nice little plastic palette with 6 wells, perfect for paints, beads, brads, or whatever you need to contain. 3.5" wide and 5-1/8" long without the handle.

Hydra Sponges - SALE
Hydra Art Sponges are utilitarian little guys that can be used for daubing liquids. Just a nice hunk of sponge at a non-fancy price! 2.5" across.

Price: 2 for

$1.00 Sale: $0.75

Sold Out


Acrylic Blocks - SALE
Acrylic Stamping Blocks from Apple Pie Memories are 1/2" thick crystal clear acrylic with laser polished sides and slightly rounded corners. The single block is 3" x 4" (as close to ATC size as we could get individually), and it comes with or without the etched alignment grid. The round block has the alignment grid plus finger grip edges and is 3-1/2".

Sold Out

Tim Holtz Scissors - SALE
Tim Holtz non-stick micro serrated scissors by Tonic:
Resistant to rust and corrosion
Non-stick coating minimizes adhesive build up
Extra large Kushgrip Handles for comfort and less fatigue
Micro serrated edge great for detail cutting
Protective plastic cap for sharp pointed blade
Excellent cutting on all types of material including sheet rubber, vinyl, and adhesive-backed papers
6-3/4" overall
Price:
$12.00
Sale: $10.70
[List: $14.25]

Scoops + Spoons - SALE
Little Scoops and Spoons are perfect for scooping out fine powders like PearlEx and other powered pigments, glitter, embossing powders, confetti, tiny beads, etc. You'll want them for lots of uses in your craft room!
Tiny Scoop is a half-sphere, holds 0.15 ml, and is 3-1/4" long. Polystyrene.

Small Scoop has a flat bottom with flared sides, holds 1.0 ml (~1/4 of a teaspoon), and is 2-7/8" long. Polystyrene.

Little Spoon is a black spoon with a long, slender handle and is 4-1/4" long. It holds a bit less than 1/4 teaspoon. Plastic.

Mr. Misty - SALE
Very small 3-piece misters. Just the thing for spraying dye inks, alcohol inks, watercolor solutions, water, even Easter egg dyes. Not for thick paints, acrylic paints, or pigment inks because they would clog it up.

Click the image to see the individual pieces - bottle, pump, and cap. Polypropylene. 3" tall. Holds 5 ml (about 1 teaspoon).

Price: 5 for

$3.25 Sale: $2.00

Mr. Pipette - SALE
Tiny pipettes or droppers are perfect for filling Mr. Misty! Also useful for dropping inks while marbling or whenever you need to add a few drops of liquid to something. No markings, but they hold about 4 ml, a bit less than 1 teaspoon. Made to be disposable, so they are lightweight, thin Polyethylene. 3-3/8" long. Shown with Mr. Misty in the larger image.

Price: 9 for

$1.00 Sale: $0.75
Zip-A-Roos - SALE
Wonderfully useful little plastic baggies with zippers. Every craftsperson needs them to contain their bits and bobs. We use them to package up orders and purchase them by the thousands, thereby getting a great price. They are 2 mil reclosable poly bags. Sizes are inside dimensions measured flat. The zipper is on the side listed first.
SkyBluePink is closing permanently in March 2017!
Please order any supplies you will need soon to avoid finding them out of stock later.