Playing Cards & Tarot Decks
Look closely at a pack of cards with your collage mind working, and you'll see a small pack of art work, produced for our creative pleasure. Cards come in a range of sizes and with all sorts of pictures on the back of the decks, of course, but they also come with a wide array of designs on the front as well as cut into shapes.

Tiny Round Cards - SALE
THE most adorable little decks of Tiny Round Playing Cards you've ever seen! At only 1-1/4" in diameter, they are perfect for ATCs, minibooks, greeting cards, or any little project.

The bigger picture shows the graphics on the court cards and jokers, which we love, and the pattern of the numeric cards. All four suits have the same drawings, just colored a little bit differently. All numeric cards have a similar pattern. Even the backs have a cool all-over pattern, in several designs.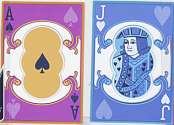 Transparent Sampler
A sample pack of 10 transparent playing cards, this assortment will include some of the cards shown above, plus other clear plastic playing cards from different manufacturers. Add another element to your collage with transparent cards!

Price: 10 cards for

$1.00 Sale: $0.75
Mahjong Cards - SALE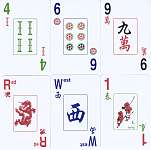 Cards for playing the Chinese game of Mahjong have wonderful images for collage. The picture shows the major suits: 4 bam (bamboo), 6 circ (circles), and 9 crack (characters), and a dragon, the West wind, and Spring.

They are the size of standard cards, 2-1/4" x 3-3/8". The deck has 178 cards, including 10 jokers and 4 blanks.
Mahjong Cards #2 - SALE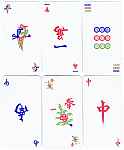 Another set of Mahjong playing cards, with different images for more Asian collage fun. This deck is meant for the Chinese market and uses Chinese numbers and characters, not Western ones.

They are narrower than standard cards, 1-3/4" x 3-3/8". The deck has 144 cards. Click here to see the box, which shows the backs.
SkyBluePink is closing but whilst we wind things down, you can still order from what is left of our stock.