Mixed Joss Papers - SALE
A mixture of many different types of beautiful Chinese ceremonial papers to adorn your Asian projects. The mixture has at least 30 sheets, most of them thin tissue paper. The mixture varies as our supply changes, but it will include most of the papers shown below, plus others we have in smaller amounts and don't offer singly. These papers don't scan well, but they are very lovely!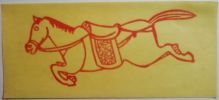 Yellow Wind Horse Joss Paper

Yellow joss paper with a red Wind Horse image. 15 sheets. 6.5" x 3".

Unusual white and black Joss Papers from Viet Nam. One shows a drawing of lots of typical old Chinese Coins; the other has drawings of clothes and tailor's tools. 20 sheets. 6" x 8"

Price: $1.00

Another Plain Joss Paper

A slightly different coloring pattern in another sheet of what we call Plain Joss Paper. 10 sheets. 7" x 8.5".

Yellow Rectangle Joss Paper

Yellow Joss Paper with mysterious red printed circles and hands. 10 sheets per package. 5" x 6"
here to see one of each for size comparison. Note: the small one is discontinued.
The regular-size Gold Squares paper is temporarily unavailable except in the mixed packs, although we have an oversupply of the Silver Squares.
| | |
| --- | --- |
| | |
| Small | Medium |
Hell Notes - SALE
According to Wickipedia: "Hell bank notes are a special form of joss paper... In order to ensure that spirits have lots of good things in the afterlife, their relatives send them paper and papier-mâché presents, and one of the things that are usually sent to ancestors are Hell Bank Notes - money to spend in the afterworld."

We have two assortments available by size. 30 Small note (6.25" x 3"). 16 Medium notes (7.5" x 4"). Some typical designs are shown in the large images above.

Price: $1.50 Sale: $1.20
Fancy Yellow Joss Paper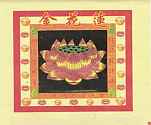 Fancy Yellow Joss Paper is very pretty for paper that is supposed to be burned! It's tissue-thin yellow paper, printed mainly in red, with bits of yellow, green, and blue All have gold foil highlights, which show up as black in the scans. We have 10 different designs currently. Click the lotus image to see sample 1, and click here for sample 2.

6.5" x 7-3/8" 14 assorted sheets per package.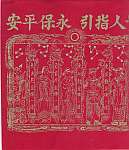 Tall Red Joss Paper
Beautiful red Joss Paper with a soft feel, printed in gold ink. 10-1/4" wide x 9-3/4" tall. It comes folded. Not quite all of it is shown; the right border is missing in the larger scan. 10 sheets per package.
SkyBluePink is closing permanently in May 2017!
Please order any supplies you will need soon to avoid finding them out of stock later.