Washi Tape Grab Bags - Overstock Sale
Adhesive Japanese Washi tape is perfect for craft projects, gift-wrapping, scrapbooking, decorating notebooks, or anything else you can think of! "Washi" is Japanese for a paper that is more commonly known as rice paper. Easy-to-tear, the tape is repositionable and semi-translucent, so itís great for layering to create unique designs.

We have lots of different designs in small amounts, many not even pictured on the Fibers & Tapes page. So let's clean up the storeroom and give everyone a great deal! Five (5) random rolls of top quality Washi Tape for only $2.00 per roll. Each bag will have a variety of patterns and colors.

Price: 5 Rolls for $10.00 Sale: $8.00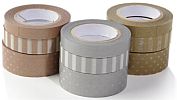 Metallic Washi Tape - Sale
Metallic Washi Tape from We R Memory Keepers, in sets of 3 rolls! Paper tape has become very popular for use in journals, scrapbooks, altered art, and mixed media, or anywhere you want a bit of pizzazz!

Each pack has 3 rolls: one 7mm (~1/4") wide plain, one 10mm (~3/8") wide striped, and one 15mm (~5/8") wide dotted. 26 feet per roll, 78 feet total.

Price: $6.00 Sale: $4.00
| | | |
| --- | --- | --- |
| | | |
| Aqua | Blue | Orange |
| | | |
| Pink | Red | Yellow |
Patterned Washi Tape
Cool Patterned Washi Tape from We R Memory Keepers, in colors to match the Baker's Twine below! Paper tape has become very popular for use in journals, scrapbooks, altered art, and mixed media, or anywhere you want a bit of pizzazz!

Each pack has 2 rolls, one 10mm (~3/8") wide and one 15mm (~5/8") wide, each in a different pattern. 26 feet per roll, 52 feet total.

Price: $4.00 Sale: $3.00
| | | |
| --- | --- | --- |
| | | |
| Blue | Green | Orange |
| | | |
| Pink | Purple | Yellow |
Baker's Twine - Sale
Fun two-color Baker's Twine from We R Memory Makers to brighten up your projects! Use it for altered art, mixed media, scrapbooking & card making, gift wrapping, embellishing stationery & gift tags, and more!

Grid Ribbon
Grid ribbon is a dainty cotton netting that curls easily. Click here to see it curling. 1/4" wide.

Webbing Ribbon
Very cool ribbon made of a web of thread! Gorgeous as is or use it as a stencil. The white one could be dyed to match your color scheme, maybe with your re-inkers. Has some body to it, but it isn't too stiff. 2" wide.

Price: $0.65 per yard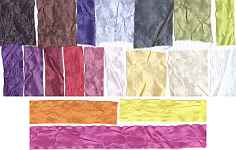 Crepe Ribbon
Crepe ribbon is going to be your new favorite! A light and airy textured ribbon that has a great body to it and will hold its shape nicely. You're going to love how it catches the light - yummy colors too! 3/4" wide. Note: the picture shows some 1.5" pieces, but ours are all 3/4".

Price: $0.40 per yard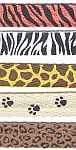 Animal Ribbons
Fun twill ribbon printed with various animal prints or paw prints. Most are printed with black ink on the colored background twill shown. The Giraffe is brown ink on golden yellow twill. 1/2" wide.

Price: $0.65 Sale: $0.50 per yard

Plain Twill Ribbon
Plain oatmeal-colored Twill Ribbon. Use as is or color it with paints, dyes, reinkers! 1/2" wide.

Western Ribbon
Twill ribbon a rather unusual barbed wire image! Use it for a cowboy or Western themed project, or try for something more offbeat. 1/2" wide

Alphabet and Music Ribbons
Fun twill ribbon printed with the alphabet or musical notation. The oatmeal-colored ribbon is printed in black. Alphabet is 3/8" wide. Music is 1/2" wide.

Price: $0.65 per yard

Measuring Ribbons
Now there are two measuring ribbons! New yellow twill ribbon with Tape Measure markings for inches and centimeters printed on it. And the original oatmeal twill with Antique Ruler measurements Both printed in black ink. NOTE: Measurements are not accurate. 1/2" wide.

Price: $0.65 per yard

Heart Ribbon
Sheer organza ribbon with glittery outline hearts for Valentine's Day! The choice is red ribbon with red hearts or ivory ribbon with gold hearts, both quite sheer and a bit sparkly all over. 5/8" wide.

Price: $0.38 Sale: $0.20 per yard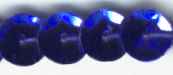 Sequin String
Pretty sequins strung on thread and ready for crafting projects. The sewing is done with multiple threads, ensuring that the sequins do not all fall off when it is cut, something we had always wondered about. The sequins are 6mm (about 1/4") and flat (except Royal Blue, which are cup-shaped.)

Price: 5 yards for $1.00
SkyBluePink is closing permanently in May 2017!
Please order any supplies you will need soon to avoid finding them out of stock later.