Clearance & Special Deals
Cool stuff... CHEAP!
Items that say Special Purchase are one-time deals we have found for you and cannot be restocked. Once They're Gone, They're Gone (OTGTG).

Mini Compasses - Seconds
We have a large number of imperfect little compasses - badly scratched tops, ugly blubs on the hands, broken open, etc. Still, they would be useful for collage and assemblage parts. Before we throw them out ("Mon Dieu!!") you can rescue them.

Small plastic compasses are 1-1/8" across, 3/8" thick, very lightweight, with black backs.
Altoid Tins
Special Find A small stash of empty Altoid tins has been discovered in a forgotten box, representing many different flavors. They make great pocket shrines or decorate one and use it for a gift box. We've even seen one made into an art doll body!

For more clever and fun ideas, check out these sites:

Price: 2 for $1.00

Sold Out
Bettors

Special Find Some Fall housecleaning uncovered another hidden gem: Bettors, which are part of a mahjong game set. The little cylinder turns and has 4 different characters, letters, or numbers. We have several designs, as the larger image shows. We're not sure what you will come up with for using these, but they are very cool looking! Most of the ones in stock now are similar to the red one in the small image - only blue.
Bettors are used when playing the game of mahjong. As we understand it, a spectator guesses who will win and dials in the symbol for that player. The spectator apparently wins something if they're right. 1-5/8" x 1"
Washi Tape Grab Bags - Overstock Sale
Adhesive Japanese Washi tape is perfect for craft projects, gift-wrapping, scrapbooking, decorating notebooks, or anything else you can think of! "Washi" is Japanese for a paper that is more commonly known as rice paper. Easy-to-tear, the tape is repositionable and semi-translucent, so itís great for layering to create unique designs.

We have lots of different designs in small amounts, many not even pictured on the Fibers & Tapes page. So let's clean up the storeroom and give everyone a great deal! Five (5) random rolls of top quality Washi Tape for only $2.00 per roll. Each bag will have a variety of patterns and colors.

Price: 5 Rolls for $10.00 Sale: $8.00

Cuff Links - Sale
Silver-colored metal cuff links with round pads for gluing or soft-soldering. Add a bead, stone, toy piece, steampunk gears, watch parts, or any other embellishment you fancy. Easy-to-use bullet-back closure. Overall dimensions are 18mm x 18mm (11/16" x 11/16"). Glue pad is 10mm (3/8").

Price:

$0.90 per pair Sale: $0.45 per pair
Bamboo Print Beads - Sale

Bamboo wood beads, decorated with various designs in browns, reds, purples, and oranges. Beads are approximately 10mm round with a 3mm large hole and very lightweight. The prints are decals, but we can't tell that from looking at them. [Picture is enlarged.]
Price: Approximately 100 for $2.00 Sale: $1.25

Copper Scroll Toggles
Clearance Sale
Antique Copper-Finish Scroll Toggle Sets. Six sets of toggles per package. A beautiful finish for your bracelets and necklaces.

Price:

$2.00

[List: $4.00]

Sale: $1.50

Sold Out
Halloween Surprise Boxes
Since our everyday Surprise Boxes are such a hit, and we've noticed tons of Halloween merchandise in our vendors' clearance bins, we've decided to offer up a Halloween version!

Apparently this is all from Halloween collections of bygone years, but around here "Halloween is Halloween." You will find anything and everything in there -- ribbons, brads, stickers, beads and who knows what! Everything is brand new, unused merchandise.
Surprise Boxes
New! ---> Now that we are closing the shop, we will be adding many items from our regular lineup to the Surprise Boxes, in addition to other samples and special purchases. All cool stuff for your crafting pleasure! If you are interested in a particular category of items, you can mention it in the message box on the shopping cart and we will try to accommodate you.

So now we are boxing everything up and selling it at half the regular retail price! Each box will be different, but will be worth at least twice the price. You will find anything and everything in there -- ribbons, brads, beads, charms, game pieces and who knows what! Everything is brand new, unused merchandise. The style is general use, not holiday, and nothing is especially wild or too funky.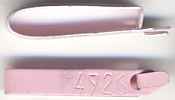 Pinklets
Special Purchase Pinklets are lightweight strips of aluminum, painted pink. Each has a 4-digit number embossed on it. You place tab A in slot B and bend to get a completed enclosure, 1-1/8" long, 3/16" wide. Or straighten it out for an interesting long pink piece of metal. 10 per packet.

Price: $0.50 [List: $1.00]
SkyBluePink is closing permanently in May 2017!
Please order any supplies you will need soon to avoid finding them out of stock later.