collage (n.)
an art form in which bits of objects, as newspaper, cloth, pressed flowers, etc. are pasted together on a surface in incongruous relationship for their symbolic or suggestive effect.
-- Webster's
New World
Dictionary
Welcome to SkyBluePink, Land of Cool Collage Stuff!
SkyBluePink is closing after 15 years in business! Whilst we wind down the shop, we shall continue to ship orders from what is left of our stock. We are not restocking items as they sell out.
If there's an "Add to Cart" button, it's still available!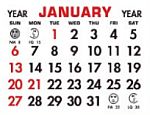 2018 Calendars
The printer has finally sent me a link for the page where you can order their 2018 calendar pads!

These are the exact same calendars that I have been selling for 14 years. Enjoy your crafting for the new year!
Newest Cool Stuff
We love to find cool stuff for collage and bring it to you for non-fancy prices! Everywhere we go, we look for collage stuff, especially in places where others see junk or waste or leftovers. Excess phone cable -- or cool colored wires? Pocket debris from a vacation -- or cool travel ephemera? It's all in your state of mind!
Other cool stuff can only be found in gigantic quantities, and a bag of 500 items may be a bit more than you need. Or one gizmo is expensive but getting a gross makes each one reasonable - if you can use the other 143! And sometimes pretty cool stuff is just found by chance, which favors the perpetual shopper, not the average time-starved crafter.
Enter Queen Xina and the staff at SkyBluePink. Consider them your personal collage shoppers or fairy godmothers, always on the lookout for collageable treasures just for you. You never know what they'll bring back next, but you do know it will be cool stuff for non-fancy prices.
For a generous helping of the cool stuff, take a look at our collage pack mixtures, the Kitchen Sink. Anything and everything can find its way into one of these amazing collections, from handmade papers to plastic doodads, shredded U.S. currency to computer chips, feathers to faces. Found Art Collage waiting to happen!
If you need Asian items, try our Asian Objects collage pack mixture. Inside you might find cool stuff like Chinese Joss Paper, Japanese book pages, postage stamps, Korean handmade paper, and Nepalese travel ephemera. We also have separate packs of postage stamps or Joss Paper.
Looking for some special papers to spark your creativity, but don't want to buy those large 20" x 30" sheets? The PaperBits collage pack mixture is just the thing! We bought those huge sheets and cut them down into pieces, so you can afford to add bits of brilliant color and design to all your projects.
Exciting collageable goodies await you within the Web pages of SkyBluePink. So come on in, wander about the place, and check out all our cool stuff for your cards, books, journals, and other art projects! Just click here to enter...
To be notified of new products and sales, subscribe to the weekly e-newsletter. Send an e-mail to: newsletter@skybluepink.com .
We accept PayPal, personal checks, and money orders. Credit cards are processed for us by PayPal, but you don't have to be a PayPal member.